Remote Hi-Hat Setup - Dinkus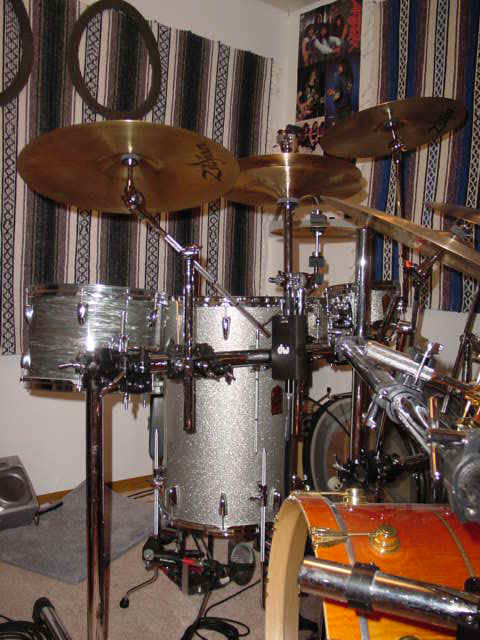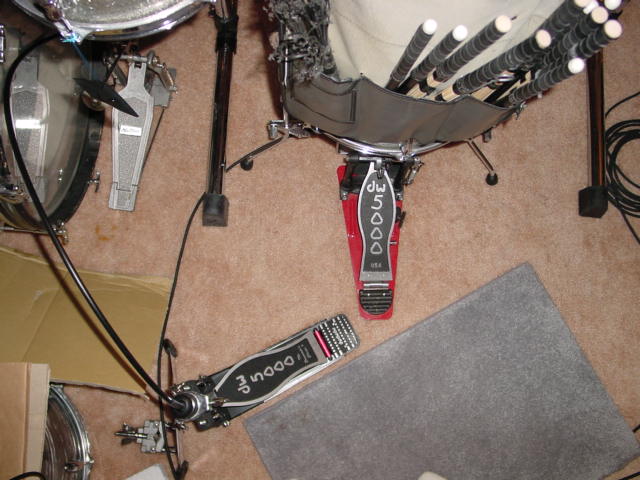 This is the Club Jordan kit. I've added another tom 12x13. I'm currently looking into adding a Custom Yamaha 14" tom painted the same. Notice the DW Remote Hat centered on the rack. The Remote pedal is set extremely different however this angle enables it to be played very easily. The gray carpet is about 1/2" high making the pedal heights easier to work with. ($1.00 from the carpet shop, old sample carpet) The hat is set ALMOST as WIDE as possible so as when the hats are closed the pedal is almost flat to the ground and pretty much flat to the carpet. The carpet also makes it more comfortable on the feet, back and knees. (I have shot knees and back from playing and sports)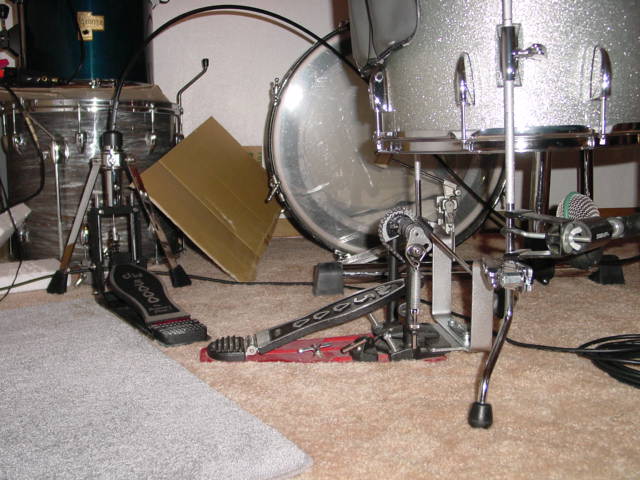 Pre playing position, note the AKG D112 mounted on the leg using a very old tom iso-mount.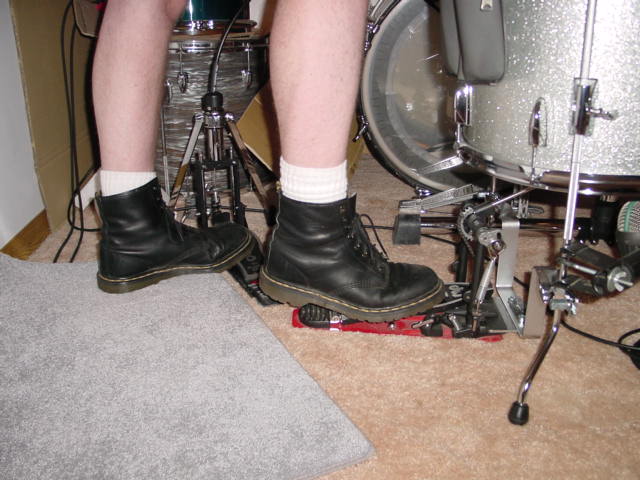 This is the playing position with hats closed and playing. This is heal up on kick but heal down is as simple. Note the Doc's, the slight raise in the heal of the boots also aid in a flatter foot, best for balance.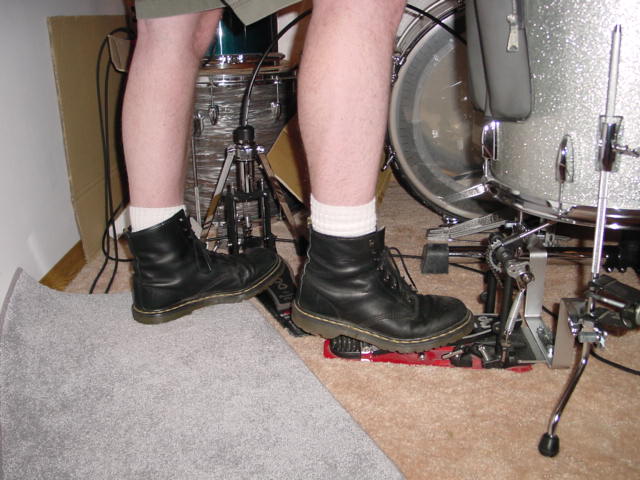 This is the hi hat open position, not much difference to the balance little heavier on the heal but hats are open and clutching just fine. You can even play off time hat beats with practice. (and not much at that) It's like changing from driving a car to a truck.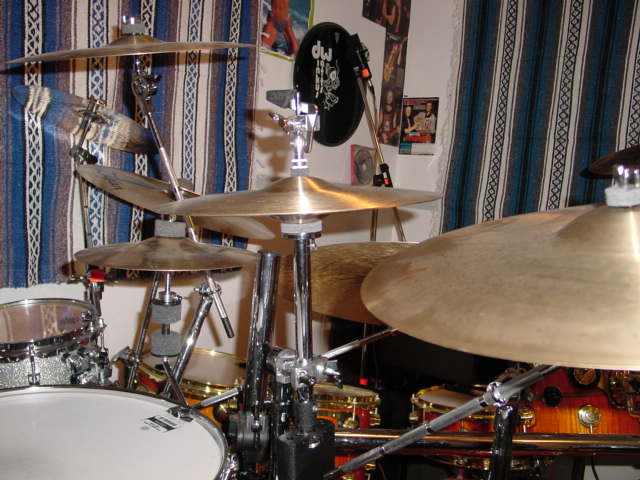 Hats closed with pedal. Note the clutch, if you have songs where you are tired or just aren't using the hat, release the clutch and your playing the hats like a normal cocktail setup.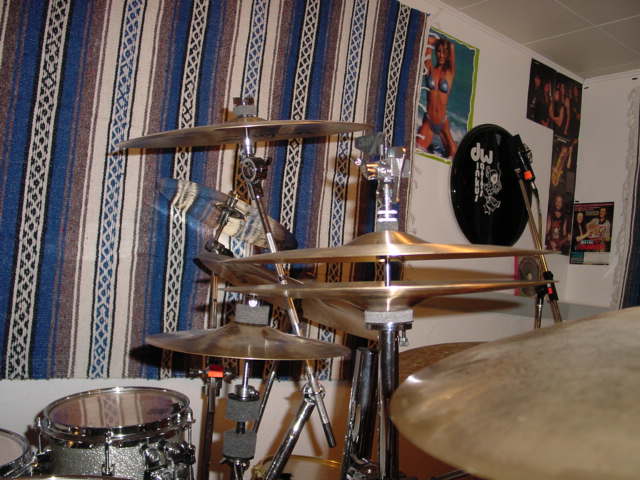 When the hats are fully open they are about an inch wide due to having to have the pedal as close to the floor board when closed to aid in balance.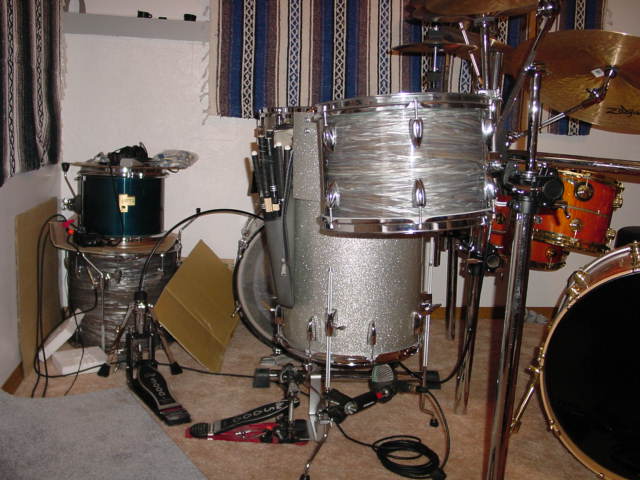 This is the set up, 3 toms, kick, snare, 17" K Dark Custom Crash, 18" K Dark Custom Crash used as ride and crash. 10" A Series Splash and 14" K Custom Dark Hats. I like the cymbal sizes but may opt for a bigger Ride/Crash in the future.
I do not play jazz so I can't comment on the playability with the hats but country to hard rock is easily played, even disco beats, funk or Dwight Yoakam's "Pocket Of A Clown" (Check it out)
It was worth the money to me and adds more paint to the palette.
Hey Special thanks to John Mettam for having such a great informative Cocktail Lounge Forum and site!!!