Mounting Additional Percussion - John Mettam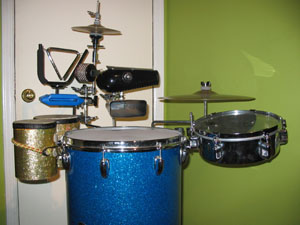 I have been constantly pursuing new ways to add on additional percussion to my cocktail kit. The most important goal for me is portability and stability.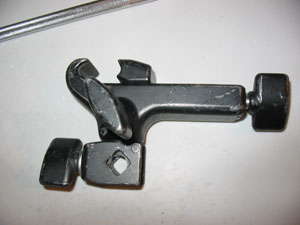 Like most people, I started by adding a cymbal and cowbell using the very common LP Claw adapter. These are lightweight and attach to any drum rim. The disatvantages are that they are not always secure and they are not fully adjustable.
---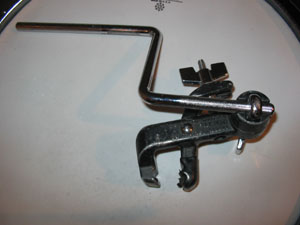 I then discovered the Gibraltar Claw. It is a little bit larger and heavier but it has a n excellent ratchet angle adjustment.
---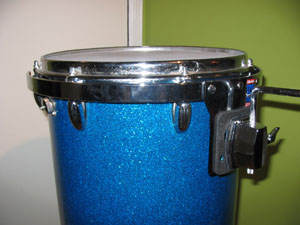 Still not satisfied with the security of the various Claws and because I was running out of rim space to clamp on new things (the Claw cannot clamp over a lug) I decided to try adding a Gibraltar suspension rim.This adds one mounting clamp without having to drill into my vintage drum and the band around the drum is free to add clamps anywhere I want!
---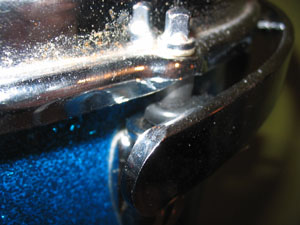 The Rim mount is designed to hang the drum freely so the mount will rock back and forth when weight is applied. To keep it solid, I added rubber spacers between the underside of the rim and the top of the Rims mount. I used a rubber tube that I could put a lug through. This worked perfectly!
---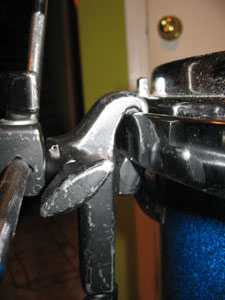 Now the small, lightweight LP Claws clamp nice and tight plus they are perfectly virtical. I find them especially problematic on my Slingerland drum. They do not clamp well to rounded edge and they have too much of an angle when mounted. Clamp to the add on Rim system solves both of these problems.
---
Now I can add on my favorite accessories
| | |
| --- | --- |
| | |
| Cymbals Stand and Small Timbale | A Trigger Triangle Mount |
| | |
| A Guiro | Back view of the full setup |
| | | |
| --- | --- | --- |
| | | |
| A Closer View of Mounts | HiHat - Skratcher Combo | Too Much? |