Hello!
I'm new to the forum and don't yet have a cocktail kit. I definitely have cocktail drum fever and have read most of the posts on this forum. Looks like I missed the heyday, but I hope there's still some life around here.

I've played drums off and on for decades. For the past couple of years, I've played only cajón and percussion. My loud rock'n'roll days are behind me and lately I've been limited to blues, Americana and worship music.
A couple of months ago, I bought a Gibraltar cajón pedal and cobbled together this little microkit. It doesn't sound great but it's been a ton of fun and has inspired me to do the right thing, i.e., to get a cocktail kit!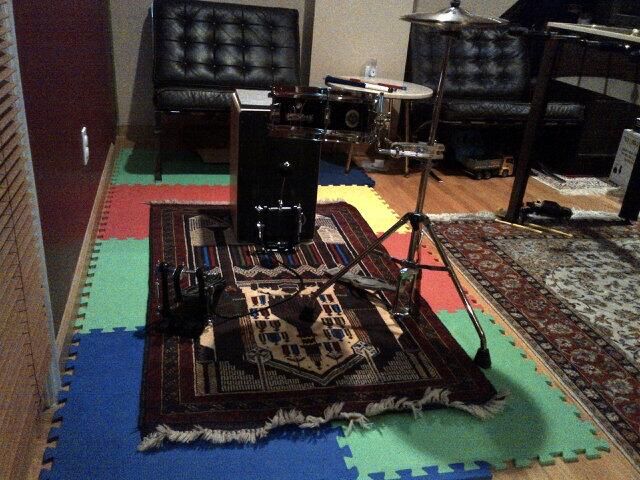 Cajón microkit: Schlagwerk 2inOne Cajón (snares removed, so it's really a 1inOne), CajonPort, Gibraltar Cajón Pedal, KAT Soft Strike Beater (couldn't stand the stock Gibraltar padded one), 1970's Ludwig Hercules Hi Hat stand, Pearl M-80 snare, UFiP 10" Class Hi Hats
I absolutely do not recommend the Gibraltar cajón pedal. It's very awkward, hard-to-adjust, fragile, slow and mushy. I'll probably retire it as soon as I get a proper cocktail drum.
Here's my normal cajón setup: Erakkustik Type 4 cajón, Sabian AAX X-plosion 11" Splash, and a heavy Meinl finger cymbal mounted with a bicycle bell spring beater.
Sorry about the awful quality phone pix.

Hopefully I'll post in the near future about a new cocktail kit. Thanks in large part to this site, I have a good idea what I want. I'm collecting bits and pieces right now; I have heads, cymbals, and an inverted Gibraltar G Class pedal. I'm practicing (not enough) standing up with the pedal under an old floor tom.